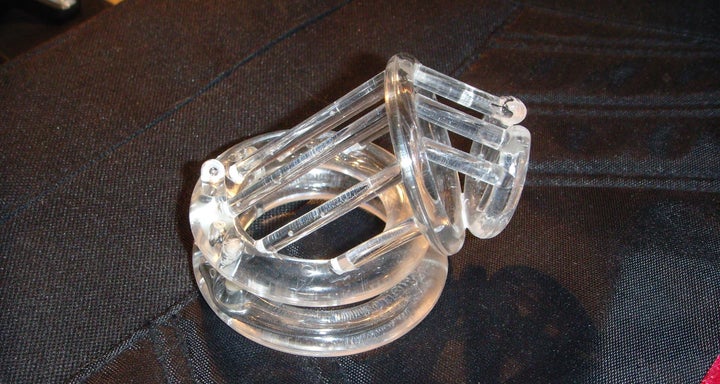 If you want to make sure that you'll enjoy and take pleasure in male chastity play, the first thing you need to learn is to how to put on a chastity device properly. Proper fit is immensely vital for a safe and fulfilling chastity play experience.
In this light, below are some basic tips on fitting a chastity cage. Do note though that rules for putting it on might vary based on the specific model of penis cage you have, but generally speaking, these basic rules will do.
How to Put On the Penis Ring
Again, putting on the penis ring will usually depend on the model of your penis cage, but the majority of penis cages have a penis ring located at the base. The purpose of this ring is to hold the cage in place and to ensure that it's secure.
The ring needs to go all the way around your testicles and penis, so you have to make sure that the ring fits around your penis and testicles — and not only your penis — comfortably.
If you're not certain of the size, you can opt for a male chastity cage with a set of cock rings or one that offers some way to adjust the penis ring.
Basic Types of Penis Rings
In general, penis rings come in two basic types, hinged rings, and solid rings. Hinged penis rings are ideal for beginners since they are easier to put on than solid penis rings. You simply open the ring and place it underneath your testicles and around your penis and then close it carefully.
Solid penis rings are trickier to work with though. First, you put one testicle all the way through, followed by the other one. To make this task easier, you could pull the skin first slowly and then fit one testicle through at a time.
Once you've managed to pull both of your testicles through, bend your penis very carefully downward and then pull it through the penis ring. When placing your penis and testicles inside the ring, make sure your penis is completely flaccid.
This is especially important if you're using a solid penis ring because even a minor erection will cause discomfort or pain.
How to Put on the Rest of the Chastity Cage
First, check out the cage's locking pin because some chastity cages have locking pins attached to them, while other models come with spacers to enable you to determine the most comfortable fit for the locking pin.
Then, put some water-based lube to your testicles and penis and then place your flaccid penis inside the actual cage component. Once the cage comes in contact with the fixing components such as posts, pins, and so forth, line them up accordingly, lock the padlock, and you're done!
If you're playing by yourself, don't forget to keep the key somewhere safe, especially if you opted for a metal chastity cage. If you're playing with somebody else, however, hand over the key to your cage, wait for further instructions, let the anticipation build up, and the fun begins.